D'Angelo Lovell Williams - Episode 47
6 months ago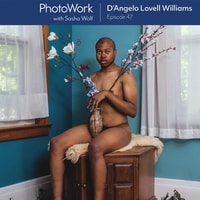 In this episode of PhotoWork with Sasha Wolf, Sasha talks to photographer, D'Angelo Lovell Williams about the experiences they had at the various art schools they attended as well as their rapid ascent in the art world at large after joining the roster of Higher Pictures Generation gallery. D'Angelo has a new brand new book out with Mack Books, Contact High, and they touch on many of the images in this new monograph.
https://www.dangelolovellwilliams.com https://www.mackbooks.us/products/contact-high-br-d-angelo-lovell-williams
D'Angelo Lovell Williams (b. 1992, Jackson, Mississippi) is a Black, HIV-positive artist expanding narratives of Black and queer intimacy through photography. They earned their BFA in photography from Memphis College of Art in 2015, an MFA in photography from Syracuse University in 2018, and are a 2018 Skowhegan School of Art alum. They live and work in New York City. D'Angelo Lovell Williams has had four solo exhibitions with Higher Pictures in 2017, 2018, 2019 and 2020. The 2020 exhibition, Papa Don't Preach, was presented in collaboration with Janice Guy at her gallery in Harlem.
Find out more at https://photowork.pinecast.co