Jason Fulford - Episode 26
6 months ago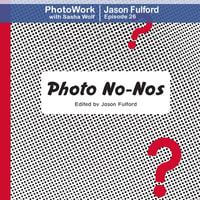 In this episode of PhotoWork with Sasha Wolf, Sasha and photographer, publisher and editor Jason Fulford discuss his latest book, Photo No-Nos: Meditations on What Not to Photograph, published by Aperture. Jason and Sasha discuss the inspiration for the book and read some of their favorite excerpts.
https://www.jasonfulford.com https://aperture.org/books/coming-soon/photo-no-nos-meditations-on-what-not-to-photograph/
Jason Fulford is a photographer and cofounder of the non-profit publisher J&L Books. Fulford's photographs have been featured in Harper's, New York Times Magazine, Blind Spot, and Aperture magazine. He has published many books of his work, including Raising Frogs for $$$ (2006), The Mushroom Collector (2010), Hotel Oracle (2013), and Picture Summer on Kodak Film (2020), as well as coedited The Photographer's Playbook (with Gregory Halpern, Aperture, 2014). He is a 2014 Guggenheim Fellowship recipient.
Find out more at https://photowork.pinecast.co