Mimi Plumb - Episode 45
7 months ago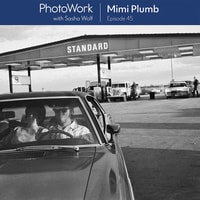 In this episode of PhotoWork with Sasha Wolf, Sasha and photographer, Mimi Plumb talk about the experience of organizing and editing work from over 30 years ago into books that are meaningful and relevant today. They also discuss the political and autobiographical nature of Mimi's work and how that still motivates her to make work today.
https://www.mimiplumb.com https://www.instagram.com/mimi_plumb/
Aperture PhotoBook Club with Wendy Red Star: https://aperture.org/events/aperture-photobook-club-wendy-red-star-delegation/
Mimi Plumb is part of a long tradition of socially engaged photographers concerned with California and the West.
In the 1970s, Plumb explored subjects ranging from her suburban roots to the United Farm Workers movement in the fields as they organized for union elections. Her first book, Landfall, published by TBW Books in 2018, is a collection of her images from the 1980s, a dreamlike vision of an American dystopia encapsulating the anxieties of a world spinning out of balance. Landfall was shortlisted for the Paris Photo/Aperture Foundation First Photobook Award 2019, and the Lucie Photo Book Prize 2019. Her second book, The White Sky, a memoir of her childhood growing up in suburbia, was published by Stanley/Barker in September 2020. The Golden City, her third book, published by Stanley/Barker in March 2022, focuses on her many years living in San Francisco.
Plumb is a 2022 Guggenheim Fellow and a 2017 recipient of the John Gutmann Photography Fellowship. She has received grants and fellowships from the California Humanities, the California Arts Council, the James D. Phelan Art Award in Photography, and the Marin Arts Council. Her photographs are in the collection of the San Francisco Museum of Modern Art, Art Collection Deutsche Börse in Germany, Los Angeles County Museum of Art, Pier 24, Museum of Fine Arts, Boston, Daum Museum of Contemporary Art, and the Yale University Art Gallery. Plumb received her MFA in Photography from SFAI in 1986, and her BFA in Photography from SFAI in 1976.
Born in Berkeley, and raised in the suburbs of San Francisco, Mimi Plumb has served on the faculties of the San Francisco Art Institute, San Jose State University, Stanford University, and the School of the Art Institute of Chicago. She currently lives in Berkeley, California.
Find out more at https://photowork.pinecast.co