Gillian Laub - Episode 32
3 months ago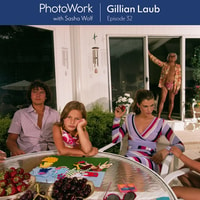 In this episode of PhotoWork with Sasha Wolf, Sasha and returning guest, Gillian Laub discuss her brand new book and exhibition, Family Matters, published by Aperture and on view at ICP. Gillian explains why she asked her editor, Lesley Martin, to delay the publication of the book, just how crucial it was to her to get the text right, and her fears about releasing work that was so intensely personal. 
http://www.gillianlaub.com https://aperture.org/books/gillian-laub-family-matters/
Gillian Laub (born in Chappaqua, New York, 1975) is a photographer and filmmaker based in New York. She received a BA in comparative literature from the University of Wisconsin–Madison, before studying photography at the International Center of Photography, New York. Her works include the book Testimony (Aperture, 2007) and the book and HBO film Southern Rites (2015). Laub received a New York Foundation for the Arts fellowship in 2019.
Find out more at https://photowork.pinecast.co