Jacqueline Bates - Episode 30
4 months ago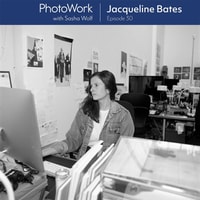 In this episode of PhotoWork with Sasha Wolf, Sasha and Photo Director Jackie Bates discuss her work with The California Sunday Magazine and Pop Up Magazine, a live magazine meant for a live audience. Sasha and Jackie also talk about some strategies for photographers to use when approaching an editor for assignment work.
https://www.californiasunday.com https://www.instagram.com/popupmagazine/
JACQUELINE BATES is Photography Director of The California Sunday Magazine, which won the National Magazine Award for excellence in photography two years in a row, in 2016 and 2017, and Pop-Up Magazine. Previously, she was senior photo editor of W Magazine and worked in the photo departments of ELLE, Interview, and Wired. Bates holds an MFA in photography from the School of Visual Arts, and her work has been exhibited internationally.
Find out more at https://photowork.pinecast.co