Tim Davis - Episode 29
4 months ago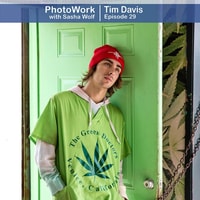 In this episode of PhotoWork with Sasha Wolf, Sasha and photographer, Tim Davis discuss his book, I'm Looking Through You, recently published by Aperture. Tim and Sasha share some of their experiences from working in Los Angeles and Tim talks about some of the different modes of working he employed for this project.
https://aperture.org/books/coming-soon/tim-davis-im-looking-through-you/
Tim Davis (born in Blantyre, Malawi) lives and works in Tivoli, New York. He received a BA from Bard College, where he teaches, and an MFA from Yale University. He has presented solo exhibitions at the Samuel Dorsky Museum of Art, SUNY New Paltz, New York; White Cube, London; Knoxville Museum of Art, Tennessee; and Museum of Contemporary Photography at Columbia College Chicago. Several monographs have been published of his work, including The New Antiquity (2010) and My Life in Politics (Aperture, 2006). He is recipient of the 2007–8 Joseph H. Hazen Rome Prize and a 2005 Leopold Godowsky Jr. Color Photography Award.
Find out more at https://photowork.pinecast.co