Catherine Opie - Episode 28
5 months ago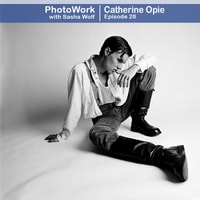 In this episode of PhotoWork with Sasha Wolf, Sasha and photographer Catherine Opie discuss Cathy's new comprehensive, survey monograph just published by Phaidon, the pivotal role a family friend played in Cathy's artistic trajectory, the impact her iconic picture Pervert had on her life and the reactions from those who first saw the work at the 1995 Whitney Biennial, including Sasha's own reaction.
https://www.phaidon.com/store/photography/catherine-opie-9781838662189/ https://www.regenprojects.com/artists/catherine-opie
Opie received a B.F.A. from San Francisco Art Institute in 1985, and an M.F.A. from CalArts in 1988. Solo exhibitions of her work have been organized at the Plug In Institute of Contemporary Art, Winnipeg, Canada (2020); Marciano Foundation, Los Angeles, CA (2019); Princeton University School of Architecture, Princeton, NJ (2018); Henie Onstad Kunstsenter, Oslo, Norway (2017); Nova Southeastern University Art Museum, Fort Lauderdale, FL (2017); Los Angeles County Museum of Art, Los Angeles, CA (2016); Museum of Contemporary Art, Pacific Design Center, Los Angeles, CA (2016); Hammer Museum, Los Angeles, CA (2016); Wexner Center for the Arts, Columbus, OH (2015); Long Beach Museum of Art, Long Beach, CA (2012); Socrates Sculpture Park, New York, NY (2012); Institute of Contemporary Art, Boston, MA (2011); Portland Art Museum, Portland, OR (2010); Solomon R. Guggenheim Museum, New York, NY (2008); Museum of Contemporary Art Chicago, IL (2006); Walker Art Center, Minneapolis, MN (2002); and the Saint Louis Art Museum, Saint Louis, MO (2000).
Opie has received numerous awards and fellowships, including the John Simon Guggenheim Memorial Foundation Guggenheim Fellowship, Photography (2019), Aperture Foundation Award (2018), Smithsonian Archives of American Art Medal (2016), Women's Caucus for Art President's Award for Lifetime Achievement (2009). United States Artists Fellowship (2006), San Francisco Art Institute President's Award for Excellence (2006), Larry Aldrich Award (2004), and the CalArts Alpert Award in the Arts (2003). She has been a professor of fine art at the University of California, Los Angeles, since 2001 and serves on the board of directors of The Andy Warhol Foundation for the Visual Arts and the board of trustees of the Museum of Contemporary Art, Los Angeles.
Find out more at https://photowork.pinecast.co