Aaron Schuman - Episode 49
3 months ago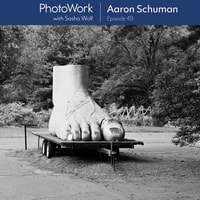 To start off season 3 of PhotoWork with Sasha Wolf, Sasha and photographer, writer, curator and educator, Aaron Schuman discuss Aaron's monographs including, SLANT and his latest, SONATA, both published by MACK. Aaron reveals how he was approached to create a Masters program at the University of the West of England and how the idea of research is more than just a singular conscious effort to pursue an idea but a lifelong endeavor that permeates your work.
https://www.aaronschuman.com/index.html
AARON SCHUMAN is an American photographer, writer, curator and educator based in the United Kingdom. He received a BFA in Photography and History of Art from New York University's Tisch School of the Arts in 1999, and an MA in Humanities and Cultural Studies from the University of London: London Consortium at Birkbeck College in 2003.
Schuman is the author of several critically-acclaimed monographs: SONATA, published by MACK in the summer of 2022; SLANT, published by MACK, which was cited as one of 2019's "Best Photobooks" by numerous photographers, critics and publications, including The Guardian, Internazionale, American Suburb X, Photoeye (Jason Fulford / Rebecca Norris Webb), Photobookstore (Vanessa Winship / Mark Power / Robin Titchener), and Deadbeat Club Press (Raymond Meeks / Brad Feuerhelm); and FOLK, published by NB Books, which was cited as one of 2016's "Best Photobooks" by Alec Soth (Photoeye), Sean O'Hagan (The Guardian), and Jason Fulford (TIME), and was long-listed for the Deutsche Börse Photography Prize 2017.
His work has been exhibited internationally - at institutions such as Tate Modern, Hauser & Wirth, Christie's London, Christie's New York, the Institute of Contemporary Arts London, the Ethnographic Museum Krakow, Format Festival and elsewhere - and is held in many public and private collections, including the Museum of Fine Arts Houston, The British Library, the National Art Library, and the Museum of Modern Art Library.
In addition to to his own photographic work, Schuman has contributed essays, interviews, texts and photographs to many other books and monographs, including Matteo Giovanni: I Had to Shed My Skin (Artphilein, 2022), OK No Response (Twin Palms, 2021), Keeper of the Hearth: Picturing Roland Barthes' Unseen Photograph (Schilt, 2021), Photo No-Nos: Meditations on What Not to Shoot (Aperture, 2021), Amak Mahmoodian: Zanjir (RRB, 2019), Aperture Conversations: 1985 to the Present (Aperture, 2018), Another Kind of Life: Photography on the Margins (Prestel / Barbican, 2018), George Rodger: Nuba & Latuka, The Colour Photographs: The Color Photographs (Prestel, 2017), Alec Soth: Gathered Leaves (MACK, 2015), Visions Anew: The Lens and Screen Arts (University of California Press, 2015), Storyteller: The Photographs of Duane Michals (Prestel / Carnegie Museum, 2014) and The Photographer's Playbook (Aperture, 2014), amongst many others. He has also written and photographed for a wide variety of journals, magazines and publications, such as Aperture, Foam, ArtReview, Frieze, Magnum Online, Hotshoe, The British Journal of Photography and more.
Schuman has curated several major international festivals and exhibitions, including: In Progress: Laia Abril, Hoda Afshar, Widline Cadet, Adama Jalloh, Alba Zari (Royal Photographic Society, 2021), Indivisible: New American Documents (FOMU Antwerp, 2016), In Appropriation (Houston Center of Photography, 2012), Other I: Alec Soth, WassinkLundgren, Viviane Sassen (Hotshoe London, 2011), and Whatever Was Splendid: New American Photographs (FotoFest, 2010). In 2018, he served as co-Curator of JaipurPhoto Festival 2018. In 2014, he served as Guest Curator of Krakow Photomonth 2014 - entitled Re:Search, the main programme featured solo exhibitions by Taryn Simon, Trevor Paglen, David Campany / Walker Evans, Clare Strand, Forensic Architecture, Jason Fulford and more.
Schuman was the founder and editor of the online photography journal, SeeSaw Magazine (2004-2014).
He is Associate Professor in Photography and Visual Culture, and the founder and Programme Leader of the MA/Masters in Photography programme, at the University of the West of England (UWE Bristol).
Find out more at https://photowork.pinecast.co