Ron Jude - Episode 44
7 months ago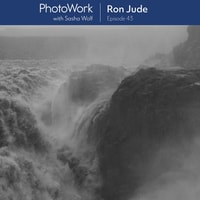 In this episode of PhotoWork with Sasha Wolf, Sasha and photographer, Ron Jude discuss his most recent book 12Hz as well as some of his previous publications, Alpine Star, Emmett and Lick Creek Line. Ron talks about his inclination to create unsentimental photographic works while keeping within the traditional practice of photography and his drive to bend and upend narrative structure.
https://www.ronjude.com https://www.instagram.com/ron_jude/
Ron Jude's recent work explores the relationship between place, memory, and narrative through multiple approaches ranging from the use of appropriated images to photographs that echo traditional documentary methodologies.
Jude earned a BFA in studio art from Boise State University, Boise, Idaho, in 1988, and an MFA from Louisiana State University, Baton Rouge, Louisiana, in 1992. His photographs have been widely exhibited nationally and internationally and are held in the permanent collections of the George Eastman House, Rochester, NY; the J. Paul Getty Museum, Los Angeles; the Museum of Fine Arts, Houston; and the San Francisco Museum of Modern Art, among others. Jude is the author of twelve books, including Emmett (2010); Lick Creek Line (2012); Lago (2015); Nausea (2017); and, most recently, 12Hz (2020). He has received grants or awards from Light Work; San Francisco Camerawork; /Users/mcd/Desktop/1-Pods/PhotoWork/44 Ron Jude/text.txtthe Aaron Siskind Foundation; and the Friends of Photography and was the recipient of a John Simon Guggenheim Memorial Foundation Fellowship in 2019.He is a professor of art at University of Oregon and lives in Eugene with Danielle Mericle and their son Charley.
Find out more at https://photowork.pinecast.co